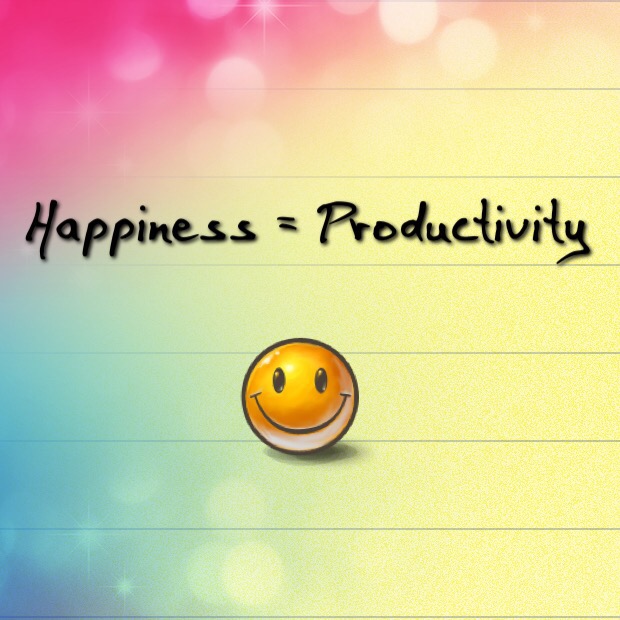 Have you ever said to yourself: "when I finally get my house organized, I'll be happy" or "when I finally get caught up at work, I'll be happy"?
Many of us are under the misconception that when we finally improve our productivity that we will be happy. We are constantly struggling to do the "must do's" on our lists before we allow ourselves to do the "want to's". From this perspective, we rarely make it to Happy or Productive.
Have you ever noticed that when you have a good day or you're just happy about something – that you actually feel like getting things done? It's a simple concept. When we are happy, things don't seem so hard and overwhelming. Happiness gives us the energy to conquer difficult tasks and to be more productive.
Studies have shown that people who watched a comedy, performed better on math tests afterword. In other words, after you have a pleasant experience that makes you happy, you tend to be more productive.
There are certain habits you can adopt that will increase your level of happiness thus increasing your productivity or your willingness to get things done. From the 10 happiness habits listed below, pick a few to weave into your day or week and see your happiness and productivity increase.
Create A Life List – Make a list of activities that make you feel happy and alive. Then document your experiences by photographing your adventures. Looking at these pictures will inspire you to create even more happy moments.
Express Gratitude – Expressing gratitude can increase happiness and overall life satisfaction. Every evening write down 3 things that you are thankful for. This practice will focus your brain on the positive things in your life.
Get More Sleep – Not only does sleep help us be more focused and productive it also affects our positivity. Start by going to bed 5 minutes earlier until you begin waking up feeling rested and refreshed.
Increase Your Physical Activity – Exercise can help you to relax and increase your brainpower. Walk, run, bike or engage in some form of physical activity that gets your heart pumping. Exercising for just 7 minutes a day can release proteins and endorphins that make you feel happier.
Play More – Nothing can make us quite as happy as letting ourselves go in the act of play. Allow yourself the joy of play and productive work will follow. Every week make a play date for yourself to do something fun that unleashes your inner child.
Meditate – Research shows that regular meditation can permanently rewire the brain to raise levels of happiness. Take 5 minutes a day to focus on your breathing, recite an affirmation, or practice progressive muscle relaxation.
Laugh – Laughter is good medicine. Treat yourself to a good laugh. Rent some funny movies, watch your favorite sitcom, or look up some funny videos online.
Help Others – Help others by performing random acts of kindness or volunteering and you will see your happiness level increase tenfold.
Use Your Strengths – Find your core strengths and use them. Explore ways to use them in your work and personal life every day.
Nurture Positive Relationships – Happiness is contagious so connect with people both on and off- line who support and uplift you.